| Item ID | Starting Bid | Bids | Current Bid |
| --- | --- | --- | --- |
| 15994 | $1.00 | 2 | $2.50 |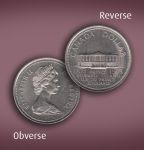 1973 represented the 100th Anniversary of the Prince Edward Island Province of Canada. To commemorate the occasion, a circulating commemorative with a nickel composition was authorized for minting.
Obverse: The bust of Queen Elizabeth the II facing right, designed byArnold Machin. ELIZABETH II D. G. REGINA which is the abbreviationfor the latin term Dai Gratia Regina or By the Grace of God, Queen.Surrounding the overall design is a circle of beads.
Reverse: Prominently features the Provincial Legislative Building anddual date of 1873 & 1973 on either side, designed by Terry Manning.The designer's initials "TM" are located at the left of the buildingwhile to the right of the building are engraver Walter Ott's initials"WO". On the upper outer periphery is the word "CANADA" and denomination "DOLLAR". Below the design (in both English and French) are the words "PRINCE EDWARD ISLAND".