| Item ID | Starting Bid | Bids | Current Bid |
| --- | --- | --- | --- |
| 15934 | $5.00 | 9 | $17.00 |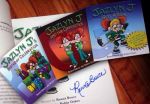 Three illustrated paperbacks from the Jazzlyn J Series, all signed bychildren's book author Renná Bruce (Guelph).
Illustrations by Robin Oakes (Kitchener)
Jazlyn J's Birthday Celebration
Jazlyn J and the Opposites
Jazlyn J Gets a Goal
From www.jazlynj.com:"The goals of the Jazlyn J series are to give kids positive-thinkingskills and guide them to appreciate all experiences in their everydaylives. Jazlyn J, the character, is all about learning with a trueappreciation for life. Thinking and being more positive in life giveskids a better chance at success in whatever they set out to do. Ithelps cultivate life skills that they'll need in order to accept whenthings don't go exactly as they planned or when they are surprisedwith the unexpected."