| Item ID | Starting Bid | Bids | Current Bid |
| --- | --- | --- | --- |
| 15924 | $5.00 | 13 | $57.50 |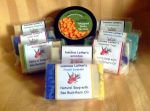 This package from Luscious Lather includes 8 luxurious (and beautiful!) handcrafted soaps made with Organic Sea Buckthorn oil. These moisturizing, earth-friendly and vegan bars have been created using the cold process method and contain no animal fats or chemicals. Scents are created with pure essential oils and spices.
The following 4oz bars are included in this package:
Lemongrass Poppyseed
Clary Sage
French Lavender
Peppermint Tingle
Spearmint Lavender
Gingergrass
Woodsman
Goddess
Also included is 8oz of Organic Sea Buckthorn Whipped Body butter, lovely for everyday use and ideal for dry skin, eczema and psoriasis.
$75 Value