| Item ID | Starting Bid | Bids | Current Bid |
| --- | --- | --- | --- |
| 15915 | $5.00 | 5 | $15.00 |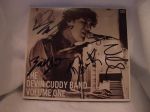 Everything here was written by Cuddy, who is arriving on the recording scene fully formed. Each number is a little gem, a cool story, whether tongue-in-cheek (My Son's A Queer), or passionate retro. There's not a nod to anything post-1959, aside from some lyrics, with the few instruments the same ones those old jazzers or Sun Studio guys were using. The piano leads it all, and it sounds like an old upright workhorse, something rolled onto the stage in the high school gymnasium when the dance band arrived. Engineer Tim Vesely (Rheostatics) adds no effects, no ambiance or layers, adding to the antique flair. Zach Sutton's drums go boom, Nichol Robertson's guitar solos sound like a 50's guitar, Devon Richardson's bass is felt more than heard. It was recorded live, no overdubs, and you can tell, in the very best ways. Even Cuddy's voice is out of time, and certainly sounds way older than 25. But he's been in love with Armstrong-era jazz since his teens, has studied both classical and jazz, and has been workshopping this sound at weekly gigs in Toronto for three years. And he's absolutely developed a style and blend like no other.
CD Cover is signed by all 4 members of the band